Tracing the Clues of a Global Killer: How Dr. Charles Swanton's Research Is Shedding New Light on Lung Cancer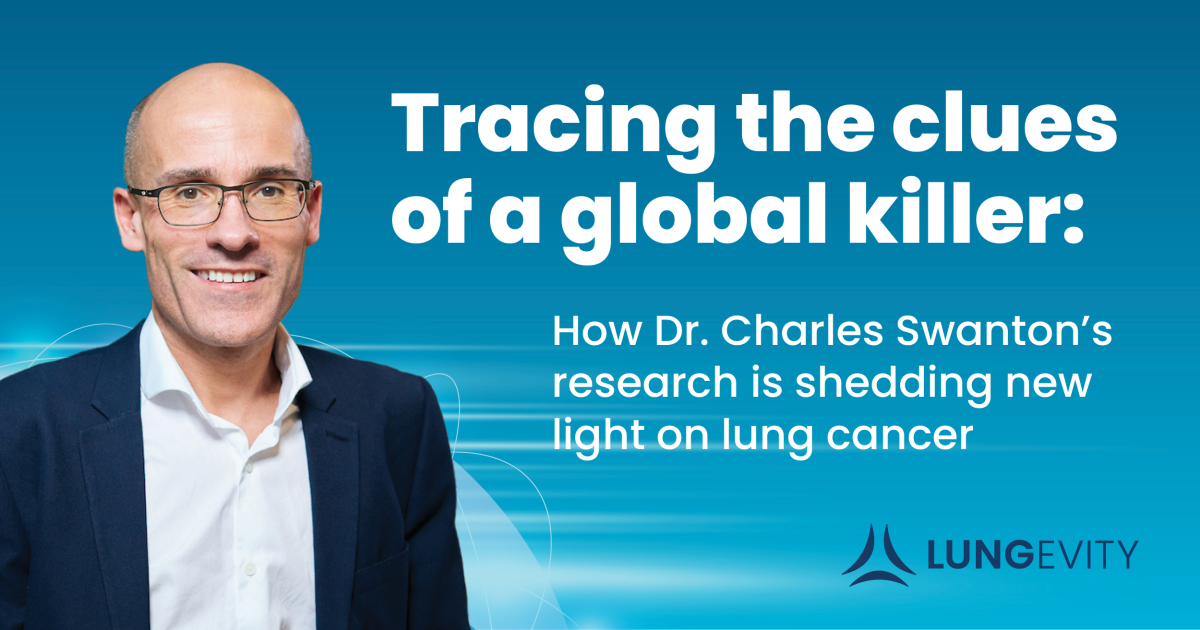 As Chief Investigator of the groundbreaking Cancer Research UK (CRUK) TRACERx study, you could say that Dr. Charles Swanton is having a moment. Launched nine years ago, TRACERx seeks to understand lung cancer at its most basic level, "tracing" the clues that may predict how it starts and eventually changes over time so that doctors can treat it better.
Collecting comprehensive genomic and clinical data from over 800 people with non-small cell lung cancer (NSCLC), Dr. Swanton and a team of over 250 international researchers are beginning to see their efforts pay off with the recent publication of seven high-profile publications in top scientific journals including Nature and Nature Medicine. These publications are shining a spotlight on lung cancer and suggesting new opportunities for prevention, detection, and treatment.
Globally, lung cancer is the second most common cancer yet is the top cancer killer. In recent years, the incidence of lung cancer has been on the rise in people without a smoking history. While it is true that anyone with lungs can get lung cancer, researchers have been working to understand the various risk factors that may explain why lung cancer is increasing in this population, many of whom tend to be younger.
In a recent study published in Nature, Dr. Swanton and colleagues suggest that air pollution, in particular small particles in the air, may trigger the development of lung cancer in people with existing EGFR mutations, one of the more common alterations associated with non-small cell lung cancer (NSCLC). This finding opens new avenues for understanding lung cancer's origins and suggests that there may be ways to help prevent the disease from developing in the first place.
Another way the TRACERx study is changing how we think about lung cancer is related to understanding both how tumors spread as well as how they evolve, or change, over time and why some are more resistant to treatment. For example, the researchers took samples from over 400 patients and were able to build evolutionary trees, similar to a family tree, to understand how lung cancer started in a given patient. Not surprisingly, they found some common patterns that may help predict why some patients' tumors respond better to treatment than others.
Additionally, Swanton and the TRACERx team gained insights that helped them better understand what features within a tumor make it more likely to metastasize, or spread, to other parts of the body. All of these findings are important because they may help us understand who will respond best to existing treatments and point us toward ways to develop improved treatments in the future.
Finally, a third finding coming out of the TRACERx study relates to how lung cancer may be tied to cancer cachexia, which is the extreme "wasting" or loss of muscle and fat tissue that many patients with cancer may develop as a result of their cancer or its treatment. Globally, over 8 million people a year are diagnosed with cachexia, but we currently have no effective treatments for it.
Dr. Mariam Jamal-Hanjani, who is part of the TRACERx team and led the cachexia study, has shown that the expression of certain genes changes in patients with cachexia, which means we may be able to predict who is at risk and intervene before it develops. LUNGevity is proud to be part of the international Cancer Grand Challenges CANCAN team that is working to tackle the problem of cancer cachexia.
LUNGevity is pleased to announce that Dr. Charles Swanton will be our featured keynote speaker at this year's International Lung Cancer Survivorship Conference (ILCSC), being held virtually September 22 – 23, 2023. If you would like to hear about Dr. Swanton's groundbreaking research, including the TRACERx study and what it means for people at risk for and living with lung cancer, be sure to register for ILCSC23!
Dr. Swanton has previously been supported by LUNGevity as part of the Stand Up To Cancer – LUNGevity – American Lung Association Dream Team.