Laurie's Path to Finding the Right Doctor, the Right Test, and the Right Treatment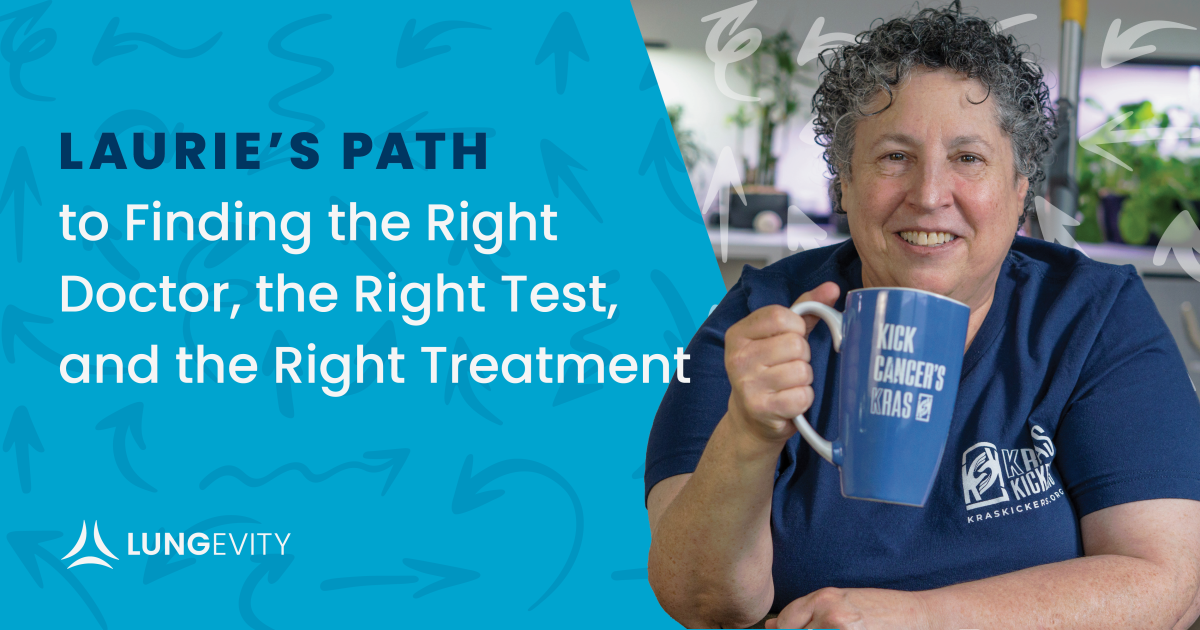 Laurie Seligman, a 57-year-old bookkeeper living in Texas, had a lingering cough, but over-the-counter cough syrup seemed to help, so she didn't think much of it and she continued with her usual activities. 
One day in 2017, she hurt her back moving a heavy bed, and went to her general care doctor. She mentioned the cough and got an X-ray. After being treated for pneumonia, her symptoms subsided. She had a follow-up X-ray but was told that it was normal for the pneumonia to still be visible on the scans even after the symptoms were gone.  
"I was told to get a third X-ray in 1-2 months. But when I went to get the third X-ray, the staff told me the radiologist recommended a CT scan after the second X-ray. But because the third X-ray was already ordered and I was going out of town, I had the third X-ray," explains Laurie. 
When I got the call from the nurse telling me I needed a CT scan, I was pretty sure I had cancer. My general care doctor told me I needed to see a pulmonologist. When I asked for my life expectancy, my doctor picked up his cell phone and said 'Hey Siri, what's the life expectancy for adenocarcinoma?'
"The thing is, when I look back now, I realize that my doctor couldn't have known it was adenocarcinoma," recalls Laurie. "We hadn't done a biopsy yet—it could have been small cell or squamous cell lung cancer or even scar tissue. He didn't know."   
And though Laurie had gotten other cancer screenings, such as mammograms, Pap smears, and colonoscopies, her doctor never suggested a low-dose CT scan for lung cancer, even though she met the national guidelines for lung cancer screening. "It's frustrating because I could have found out about my cancer up to two years before, or even a year before," she explains.  
Laurie got a biopsy done with a pulmonologist and discussed the results when she met with her oncologist. After the first biopsy results were identified as scar tissue, her oncologist recommended they redo the biopsy. "My oncologist didn't want to find out in three months that it was cancer, so I had a second biopsy, which showed that it was adenocarcinoma," says Laurie. 
Then the treatments began. "I started with 36 rounds of daily radiation along with seven weekly rounds of carboplatin/paclitaxel. Three weeks later, I had two additional full doses of chemotherapy and then we did follow-up scans. After the scans, I went on immunotherapy, durvalumab, and developed hepatitis after 12 rounds. But I was able to start back up again after 6 weeks and completed 26 rounds of durvalumab." 
Throughout her treatments, Laurie continued to stay up-to-date on information about lung cancer. Through a lung cancer support group, she discovered LUNGevity's resources such as the HOPE Summit, an annual conference for lung cancer survivors and their caregivers.   
"I attended the HOPE Summit that year in 2019 and met some amazing people. There was a guy wearing 5-year and 10-year survivorship ribbons. He told me the doctors had only given him six months to live. That was so inspiring to me. I knew that if he could do it, I could too," Laurie says.  
Meeting other survivors gave Laurie the gift of hope. And attending the Summit sessions gave Laurie the gift of knowledge.  
"A doctor at HOPE Summit was talking about biomarker testing. It was the first I'd heard of it. I pulled him aside and talked to him about my situation. He said I should get biomarker testing once I'm no longer stable."  
Laurie remembers what he said. Almost one-and-a-half years later, when her cough returned and she was short of breath, Laurie had a CT scan and was initially told the progression noted in the report was actually inflammation. A subsequent scan revealed a suspicious lymph node and Laurie endured 10 more rounds of radiation.  
With her cancer progressing, Laurie was determined to get biomarker testing. But the oncologist wasn't willing to get the biomarker testing done.  
"I knew it was important. I kept asking. Eventually, I got the biomarker testing done. I found out that my cancer was the KRAS G12C type. And then I did my research, and got a second opinion from a clinician who recommended Moffit Cancer Center, as I was considering moving to Florida."   
With failing lungs and a weakening body, Laurie sold her home, packed up her things, and moved to Florida to be near her family and close to Moffit at the beginning of 2021. 
"We discovered I had a collapsed lung just days after I arrived in Florida.  I was hospitalized for a few days to have a thoracentesis."  
"Because immunotherapy had worked for me before, my new oncologist wanted to try it again while we were waiting for sotorasib, the first targeted therapy for KRAS-positive lung cancer, to be approved by the FDA. The following week, I had my second thoracentesis, and then a third and then the doctors put in a catheter to drain the pleura. That's when the immunotherapy started again." 
After the second round of immunotherapy, the catheter clogged and Laurie had a bout of pneumonitis. "While I was in the hospital, I had surgery to clean everything out and replace the catheter."  
"Sotorasib was approved in May 2021 and in June I was on the treatment," says Laurie. "Two weeks after starting the medication, my cough was gone. By six months, I'd had a complete response to the treatment with no evidence of disease." 
After catching a cold and then catching COVID-19 toward the end of 2022, Laurie's cough started to return.  Her follow up scans in December 2022 showed that her cancer was stable. But in January, after being treated for a respiratory infection, the cough went away and then came back accompanied with shortness of breath.
"I told my oncologist that I thought the cancer was back," say Laurie. "In February, we did a scan of the lungs which revealed my right lung was mostly collapsed again. This time, my doctor ordered the biomarker testing right off the bat."  
Through this biomarker testing, Laurie found out that her cancer had developed two new mutations—MEK and BRAF. "Originally, we thought the cancer had learned to work around the targeted therapy, but the biomarker testing told us that the treatment was still working and the new cancer growth was likely due to the new mutations. So, I'm still on sotorasib, and we added in chemo to get the tumors with the new mutations."  
"For anyone out there facing a lung cancer diagnosis, I'd say that you have to find a doctor who knows their stuff. Find a specialist if you can. My first oncologist didn't know how to read the lung cancer scans, so she'd rely on the reports. And she fought me on getting biomarker testing done. My new oncologist puts up the scans and we discuss them together. And he made sure the biomarker testing was done before making decisions on new treatments."  
Laurie also emphasizes the importance of finding your lung cancer family. "I'm in LUNGevity's online groups and other groups as well. I have a community of people who understand. They are people who've been through it."  
"Don't make your life only about you," she suggests. "Get involved with things you care about. Create a legacy. I didn't have one before, but I do now. And don't forget to live your life, have fun, and enjoy yourself."