2023 ASCO: Highlights of Lung Cancer Research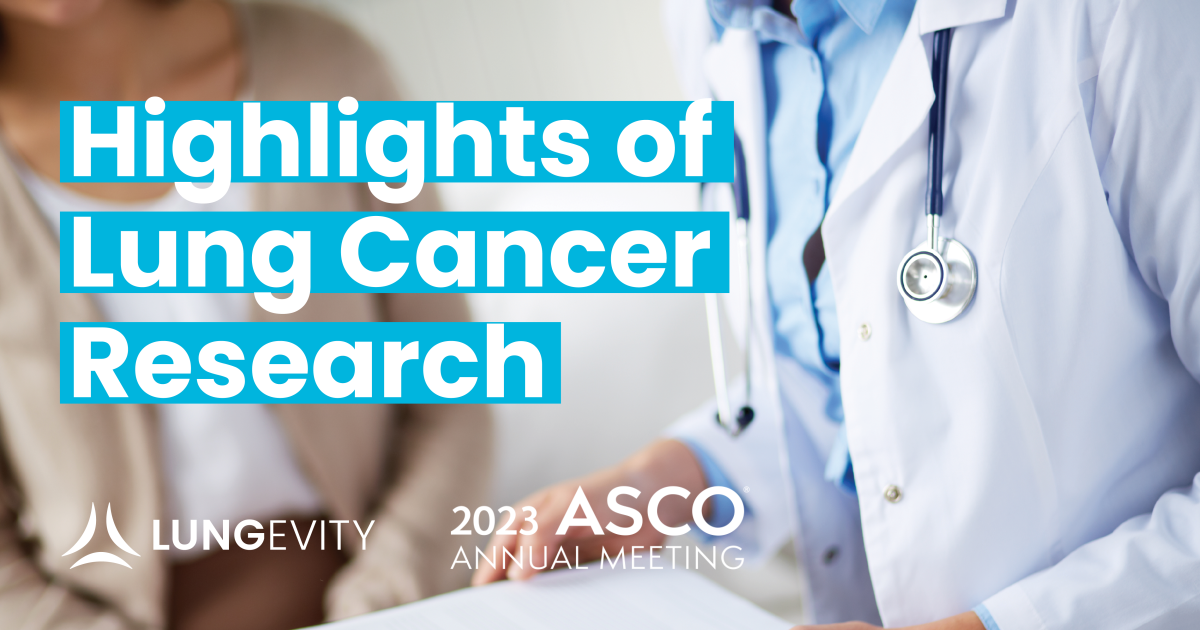 Recently, members of LUNGevity Foundation joined thousands of attendees from the US and around the world, including oncologists, scientists, biotech and pharmaceutical representatives, advocates, and patients, to discuss lifesaving cancer research at the annual meeting of the American Society of Clinical Oncology (ASCO) in Chicago from June 2 through June 6, 2023. The theme for this year's conference, "Partnering With Patients: The Cornerstone of Cancer Care and Research," was in recognition of the importance of shared decision-making in cancer research, healthcare delivery, and treatment planning.  
"The discoveries of the past several decades have been monumental in cancer—basic, translational, clinical, and population-based research have led to life-altering progress and will ultimately allow us to eliminate death and suffering from cancer, assuming we can deliver the best care to everyone," said Dr. Eric P. Winer, 2022-2023 president of ASCO, during the opening session of the conference. "Now, more than ever before, we need to reach out to our own patients, to the patient community at large, and to the general public to understand what we need to prioritize to make their lives better, and we need to listen to their guidance. We must embrace patients as our partners in research." 
Throughout the conference, researchers presented data on many different aspects of lung cancer research and treatment. Here we highlight some of the most impactful and interesting studies on biomarker-driven lung cancers presented at this year's meeting.   
EGFR 
The biggest lung cancer news to be presented at this year's meeting was the final 5-year survival results of the ADAURA trial. This trial, the first of its kind, looked at the use of adjuvant (after surgery) osimertinib (a third-generation targeted therapy for EGFR-positive lung cancer) in patients who had undergone surgery for EGFR-positive non-small cell lung cancer (NSCLC). The 5-year overall survival rate was 88% in patients treated with osimertinib compared to 78% among patients who did not receive the drug.  
Despite these promising results, we still have some unanswered questions. While osimertinib is the gold standard TKI (tyrosine kinase inhibitor) treatment in the US and many parts of the world for patients whose tumors test positive for EGFR ex19del or EGFR L858R metastatic NSCLC, it is likely that these early-stage tumors will eventually develop resistance to osimertinib, as they do for other TKI treatments. Therefore, it's even more critical to determine what's next after osimertinib. Furthermore, we need to figure out better ways to identify which patients will need adjuvant osimertinib, since there is a group of patients who did well even without osimertinib.  
Researchers are working on developing other treatments that would work in combination with osimertinib or as a single drug to help treat patients whose tumors have developed TKI resistance. The SYMPHONY trial aims to overcome osimertinib resistance using BLU-945, a next-generation TKI that showed promising results in terms of safety and side effects. Additional studies are ongoing to continue testing this treatment approach.    
The results from the KEYNOTE-789 trial, a phase 3 study looking at adding immunotherapy (pembrolizumab) to chemotherapy in patients with TKI-resistant EGFR-positive NSCLC, showed no significant benefit to adding the immunotherapy. These results, along with others, suggest that more work is needed to understand how immunotherapy can be leveraged to benefit patients with EGFR-positive NSCLC. 
KRAS 
In 2022, the phase 3 CodeBreaK 200 study compared sotorasib (a targeted therapy for KRAS G12C–positive NSCLC) treatment to docetaxel (chemotherapy) and demonstrated the benefit of treatment with the targeted therapy. This study laid the groundwork for the drug approval in more than 50 countries, including the United States and those in the European Union.   
The same study also revealed the drug penetrates the blood-brain barrier and may be useful in treating brain metastases.  
KontRASt-02 is a global phase 3 study evaluating JDQ443, a new KRAS G12C inhibitor, as a single drug in comparison to docetaxel in patients with KRAS G12C-mutated, advanced NSCLC who have previously been treated with immunotherapy and platinum-based chemotherapy. The previous study of this drug showed that it may help shrink tumors, and patients had tolerable side effects when taking this drug. This study is currently still enrolling patients. 
ALK 
Understanding how immunotherapy can be used for ALK-positive lung cancers has become a high priority. In an interesting study on how ALK-positive lung cancer interacts with the immune system, researchers studied the tumor microenvironment (the cells and molecules around the tumor) of ALK-positive NSCLC.
The researchers found a low level of tumor mutational burden (the number of mutations in the DNA of a tumor cell) along with low levels of markers of immune activity associated with the ALK-positive tumors. These findings are likely to lay the groundwork for studies of treatment approaches that stimulate the immune response to enhance benefits of immunotherapy. 
Rare Mutations 
Treatments for rare driver mutations in NSCLC were also discussed during the ASCO annual meeting. Two studies in particular demonstrated interesting and actionable results.  
Currently, the standard of care for patients with BRAF V600E-postive metastatic NSCLC is a combination approach of a BRAF inhibitor (dabrafenib) and a MEK inhibitor (trametinib). Researchers looking into alternative treatment options for patients are conducting the PHAROS trial, an ongoing, phase 2 study of a combination of a BRAF inhibitor (encorafenib) and a MEK inhibitor (binimetinib) that is FDA-approved for treating melanoma. The initial results looked promising in previously untreated patients, with side effects that were similar to what is seen in patients treated for melanoma. The researchers are planning to submit findings from this research study for FDA review and approval.  
ASCO attendees also heard the first results of the phase 1/ 2 TRIDENT-1 trial, looking at the effect of repotrectinib, a next-generation ROS1 TKI, in patients with ROS1-positive NSCLC. Previous studies showed that the drug caused lasting tumor shrinkage, and the side effects of treatment were manageable for patients. The results presented at ASCO showed that the drug crossed the blood-brain barrier and may be useful in treating brain metastases. Additional research is underway.  
Non-Small Cell Lung Cancer
Innovative research is thriving in the NSCLC space. ASCO attendees saw the results of testing novel treatment approaches.  
Researchers from the TROPION-Lung02 study shared results from the first and largest dataset looking at treating patients with advanced NSCLC with an antibody-drug-conjugate treatment (singlet treatment) plus immunotherapy (doublet treatment) and chemotherapy (triplet treatment). The study included patients with advanced NSCLC who were just starting treatment as well as patients who had been previously treated. The results for the triplet treatment patient group look promising with tolerable side effects and a 60% overall survival rate. More studies are underway.  
Small Cell Lung Cancer
The CASPIAN trial was an important phase 3 trial demonstrating the benefit of treating patients with extensive-stage small cell lung cancer (ES-SCLC) with a combination of durvalumab (immunotherapy) and platinum-etoposide (chemotherapy). The CASPIAN study led to the FDA approval of this combination treatment for ES-SCLC in March 2020. 
Improving our understanding of SCLC continues to be top of mind for many thoracic oncologists and researchers. Researchers at ASCO presented a study that looked back through the patient-reported quality-of-life information from the CASPIAN study to understand if this information could predict patients' treatment outcomes. The research suggests that there may be a correlation.
Additional studies will be needed to deepen our understanding of patient-reported quality-of-life information to help medical teams develop more personalized treatment plans. 
There was an impressive breadth and depth of lung cancer studies presented at the annual ASCO conference with researchers aiming to improve outcomes for lung cancer patients in the US and across the globe. Working together, we are getting closer to our goal of a world where no one dies of lung cancer.  
If you have any of the lung cancer types listed above, visit the LUNGevity Patient Gateways to get tailored information specific to you.